Academy New Year
Published - Sat, Oct 1, 2022
The new school year 2022 - 2023 at my local academy in 'Sint-Niklaas' has started again.
This will be my 9th year already. Time sure does fly.

Academy Retrospect 2021-2022
Published - Fri, Aug 5, 2022
Yet another school year has passed at my local art academy in Sint-Niklaas (Belgium).
This year I have been focusing mostly on working on my 'March 2 Infinities - Landscapes' art series and I began to explore the new 'Transhumanists' art series.
Academy Open Doors
Published - Sat, Jun 25, 2022
My local academy Sint-Niklaas (Belgium) is having its 'open doors day' this weekend. People can freely visit all the class rooms and get to know the various disciplines and look at the created art by the students.
Exposition PARADE
Published - Tue, Mar 15, 2022
I am participating in the exposition 'PARADE' at the art academy in my home town Sint-Niklaas (Belgium).
Best wishes for 2022
Published - Sat, Jan 1, 2022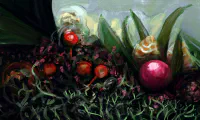 My best wishes for the new year. Let it be a creative year full of new art and more importantly a good health for you & your relatives.
Art Series - March 2 Infinity NFT & GAN
Published - Wed, Oct 6, 2021
The March 2 Infinity art series has been extended with 'GAN' based digital artworks and made available as NFT on HEN.