Expo Model X Finished
Published - Fri, May 12, 2023
The academy group exposition 'Model X' came to an end last sunday. It was a great success with over 1000 visitors during these 3 weeks and an overall very positive reaction.
Expo Model X
Published - Fri, Mar 31, 2023
I am excited to announce I will participate in a new academy group exposition 'Model X'.
NEW M2I Web Site
Published - Mon, Feb 20, 2023
I am happy to announce the release of this new website.
NEW M2I Art
Published - Wed, Feb 1, 2023
The year at the academy is progressing and the collection of new 'March 2 Infinity' art is taking shape.
Best wishes for 2023
Published - Fri, Dec 30, 2022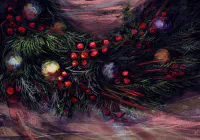 My best wishes for the new year. Let it be a creative year full of new art and more importantly a good health for you & your relatives.
Academy New Year
Published - Sat, Oct 1, 2022
The new school year 2022 - 2023 at my local academy in 'Sint-Niklaas' has started again.
This will be my 9th year already. Time sure does fly.